Click here to read the full article.
Eleven members of the Oath Keepers, including the group's founder Stewart Rhodes, were indicted Wednesday by a federal grand jury in the District of Columbia for an alleged "seditious conspiracy" to attack the U.S. Capitol and prevent the certification of electoral votes from the 2020 presidential election.
The indictment, returned Jan. 12 and unsealed Thursday, brings the first Jan. 6 charges for Elmer Stewart Rhodes III, 56, of Granbury, Texas; and Edward Vallejo, 63, of Phoenix, Arizona. Rhodes faces a count of seditious conspiracy and four other charges from Jan. 6. Vallejo is charged with seditious conspiracy and three other counts.
It is the first federal indictment alleging seditious conspiracy on Jan. 6, a charge that upon conviction carries a maximum prison term of 20 years.
Rhodes is the founder and leader of the Oath Keepers, a nationwide group of current and former military, law enforcement, and first responders who aim to defend and preserve constitutional rights, based on the oath they took to defend the United States from "all enemies, foreign and domestic."
The indictment includes new charges against nine previously charged Jan. 6 defendants: Thomas Caldwell, 67, of Berryville, Virginia; Joseph Hackett, 51, of Sarasota, Florida; Kenneth Harrelson, 41, of Titusville, Florida; Joshua James, 34, of Arab, Alabama; Kelly Meggs, 52, of Dunnellon, Florida; Roberto Minuta, 37, of Prosper, Texas; David Moerschel, 44, of Punta Gorda, Florida; Brian Ulrich, 44, of Guyton, Georgia; and Jessica Watkins, 39, of Woodstock, Ohio.
In addition to their previous charges, the defendants are charged with seditious conspiracy and other Jan. 6 offenses. Among the charges spread across the 11 defendants are destruction of government property, civil disorder, tampering with documents or proceedings, and conspiracy to prevent an officer from discharging any duties, the indictment said.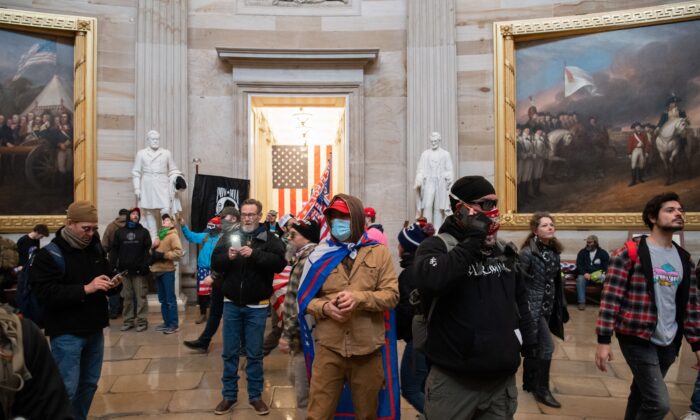 Jonathon Moseley, a Washington D.C. attorney who represents Kelly Meggs in his criminal case and Stewart Rhodes in his upcoming appearance before the select Jan. 6 committee, blasted the indictment as a publicity ploy.
Continue reading here.
Scroll down for comments and share your thoughts!