Click here to read the full article.
A bill aimed at combating the Chinese regime's state-sanctioned forced organ harvesting has cleared the committee and is headed for a vote on the House floor.
H.R. 1154, also known as the Stop Forced Organ Harvesting Act of 2023, passed unanimously through the House Foreign Affairs Committee on Feb. 28 and is now advancing to the House floor.
The bill would require sanctions on perpetrators that bar their entry to the United States and block their financial transactions on U.S. soil. It would also require the U.S. Secretary of State to report to Congress on organ transplant abuses committed in foreign countries.
"People are finally waking up to the brutality of the CCP," Rep. Chris Smith (R-N.J.), the bill's lead sponsor, said in a statement on Tuesday, referring to the Chinese Communist Party. "We in the United States—in the medical field in particular—must examine our moral complicity in this most heinous of crimes."
Related Coverage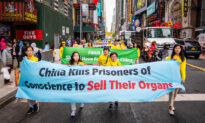 Chinese Regime Killed Falun Gong Adherent for His Liver, Witness Says
Forced organ harvesting is a lucrative trade in China, systematically carried out under state order. Doctors remove key organs from the victim, primarily prisoners of conscience, killing them in the process.
At the committee hearing, Smith cited investigations from the London-based China Tribunal, which in 2019 found that the state-sponsored abuse "has been committed for years throughout China on a significant scale," with detained Falun Gong practitioners being the main organ supply.

The spiritual discipline, which espouses the values of truthfulness, compassion, and tolerance and involves a set of slow-moving exercises, had an estimated following of up to 100 million when the regime directed an expansive suppression campaign in 1999 to eradicate the faith.
Smith recalled presiding over a congressional hearing about 25 years ago where a Chinese security official testified that he and other security agents were shooting prisoners, with doctors standing ready to harvest their organs.
"That was the beginning stages," he told NTD, a sister media outlet of The Epoch Times. "Then it went into an all-out assault, because the Chinese Communist Party realized they could make billions of dollars doing this, and they also then would have a repair kit for themselves."
Smith was referring to open-source reports in China that high-ranking CCP officials are entitled to organ replacement transplants. A former Chinese deputy cultural minister who died in the recent COVID wave that devastated the country was revealed to have many organs replaced, causing him to joke that "many components are not [my] own anymore."
"If Xi Jinping gets sick tomorrow and needs a new lung, he will get that lung from a 28-year-old Falun Gong practitioner or perhaps an Uyghur man or woman," Smith said, referring to the Chinese leader. Such an act, he said, is reminiscent of the medical experiments Nazi physician Josef Mengele did in Auschwitz, which are "remembered as war crimes."
Global Financial Integrity (GFI) estimates that the trafficking of organs as a global criminal enterprise generates anywhere between $840 million and $1.7 billion, although such a number could still represent the tip of the iceberg, experts say.
For Smith, the bill is a first step to "stop this barbaric practice—starting first and foremost with the People's Republic of China, but secondly its global enablers."

'Can't Think of Anything More Horrific'
Inside China's opaque organ transplant industry, there's no telling how many people get killed each year. An investigative report in 2016, which analyzed data such as bed counts, revenue, and transplant capacity across 169 Chinese hospitals, said that those facilities together could have conducted between 60,000 to 100,000 transplants each year.
"Anyone who does get a transplantation should be very aware of its source to ensure the dead person voluntarily offered their organ—be it a heart, liver or whatever it might be—that they were indeed dead at the time of the organ transplant," Smith told NTD.
"But in China, everything is reversed. They go and pick and 'cull'—as they call it—these very healthy people, and the Falun Gong practitioners are extraordinarily healthy because of their religious practices, because of their lifestyle, so they become victimized by the Chinese Communist Party."
"They target the very people that they oppress with impunity—Falun Gong practitioners or the Uyghurs or Tibetan Buddhists, but mostly Falun Gong practitioners," Smith added, noting that the adherents are "a threat to no one."
"They hate them so much, but they want their organs. I mean, this is outrageous."

Foreign Affairs Committee Chair Rep. Michael McCaul (R-Texas), a co-sponsor on the bill, expressed appreciation to Smith for bringing this "long overdue bill" to the attention of the American public, "who may not understand what type of nation we are dealing with and how complete disregard for human life and human rights the [CCP] has."
"I can't think of anything more horrific or more barbaric than this practice that the Chinese Communist Party engages in," he said at the hearing.
"To hold people down against their will, and sometimes anesthetize them, sometimes not, and take out their very vital organs and then sell them for hundreds of thousands of dollars—it is absolutely disgusting," McCaul added.
The bipartisan bill was also co-sponsored by Reps. Bill Keating (D-Mass.) and Kathy Manning (D-N.C.).
The Epoch Times didn't hear back from Sen. Tom Cotton (R-Ark.), who led the Senate companion bill in the last Congress, about whether he plans to reintroduce the bill this session.
Continue reading here.
Scroll down for comments and share your thoughts!