Click here to read the full article.
Previously, in part one of my interview with Robert F. Kennedy, Jr., founder and chief legal counsel of the Children's Health Defense, we discussed glaring conflicts of interest in our health agencies and what he describes as a coup-d'état against American democracy and the Bill of Rights.
Related Coverage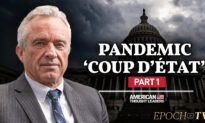 Robert F. Kennedy Jr. (Part 1): The Dark Secrets of the Childhood Immunization Schedule and the Vaccine Approval Process
Now in part two, he explains how U.S. government tools developed for influencing overseas populations were deployed on Americans.
We also take a look at the string of pandemic simulations conducted in the last few decades—detailed in his book "The Real Anthony Fauci"—and the eerie similarities he discovered.
What does Kennedy think about allegations the CIA was involved in the assassination of his uncle, John F. Kennedy?
And at a time when many have lost faith in the American system, how do we restore power to the American people and rekindle American ideals?
Looking for PART ONE of this interview? Watch it here. 
Continue reading here.
Scroll down for comments and share your thoughts!