Click here to read the full article.
The U.S. military is tracking another high-altitude balloon that crossed over the Hawaii coast and is now heading toward Mexico, the Department of Defense has confirmed.
Using "newly-established parameters for monitoring U.S. airspace," the Department of Defense first detected the balloon on April 28 off the coast of Hawaii floating at approximately 36,000 feet, a department spokesperson told The Epoch Times on May 1.
The balloon is unmanned and its ownership remains unknown. But the spokesperson said there's "no indication that it was maneuvering or being controlled by a foreign or adversarial actor."
"The balloon did not transit directly over defense critical infrastructure or other U.S. Government sensitive sites, nor did it pose a military or physical threat to people on the ground," the spokesperson said, adding that despite it flying in the range of commercial aircraft, the balloon "posed no threat to civil aviation over Hawaii."
These observations have led Secretary of Defense Lloyd Austin to agree with his military commanders that "no action need be taken against the balloon," according to the spokesperson.
The department said the balloon has now moved out of Hawaii's airspace and that they will continue to track its path with the Federal Aviation Administration.
The revelation marks the latest balloon overture after a Chinese spy balloon traveled for more than a week across the United States, passing over a number of sensitive military sites. A U.S. Airforce fighter jet ultimately shot it down on Feb. 4.

That balloon, which had also entered Canadian airspace, appeared around the same time that a Chinese balloon traversed Latin America. That was eventually taken down by Chinese authorities when it reached the Atlantic Ocean.
Both are part of the Chinese regime's global military surveillance program that has conducted operations in more than 40 countries across five continents, U.S. officials have said.
Related Coverage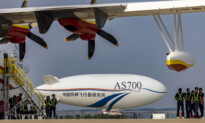 'Silent Killer': Inside China's Military Balloon Program
White House press secretary Karine Jean-Pierre referred questions to the Department of Defense during the Monday press briefing.
Last month, reports citing two unnamed senior U.S. officials and one former senior administration official claimed that the Chinese balloon that traversed the mainland United States had been able to send data back to China in real time, contradicting U.S. government's claims that it had successfully protected American interests against the balloon's intelligence collection.
Pentagon spokesperson Sabrina Singh refused to confirm the report at the time, saying whether real-time transmission had happened was "something we're analyzing right now."
Continue reading here.
Scroll down for comments and share your thoughts!